Marionism is the national religion of the Kingdom of Stuck and formerly the Stenallian-Strankisvanian Kingdom, it involves a series of believes about mythical Kings of Stenall, Oscarius, Orina and Josephus and more importantly, the religions name sake, Prince Marionus, a grandson of Josephus.
The 3 Realms
Marionists believe in 3 realms created by God, Earthin, the Spirit World and the Land of the Kings. Earthin is the known universe, the Spirit World is home of the Bopo, ancient spirits with many powers and the Land of the Kings, Home of the Over Leaders.
Family Tree of Mythical Stenallian Royals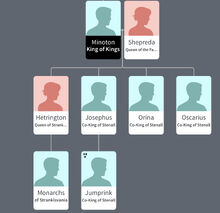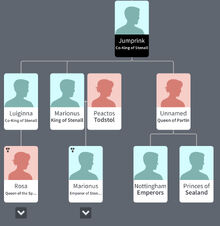 Community content is available under
CC-BY-SA
unless otherwise noted.