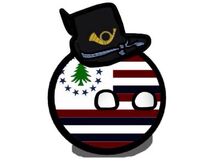 NovangliaBall is the countryball personification of Novanglia. NovangliaBall is similar to USABall and CanadaBall. Like the USABall and CanadaBall; YankeeBall like his military and wars and is important to the microball world.
Personality
NovangliaBall is known to be helpful, Patriotic, Loud. Care a lot for his friends. Is competitive and want to be big and powerful and be #1. YankeeBall is protective of his friends and small microballs and has no problem fighting others if need. NovangliaBall is Brave and doesn't fear no one. He likes to wear his Hardee Hat wherever as he doesnt have a crown so this is his version of a crown.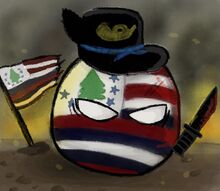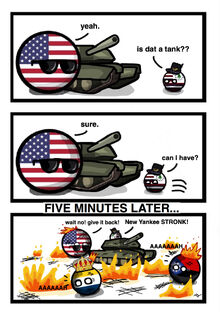 Likes and Dislikes
Likes
Freedom
Sports
Military
History
M26 Pershing
American tanks and military weapons
War
Being #1 and powerful
Being helpful and useful
Dislikes
White Supremacy
Getting Facts wrong
Being wrongfully accused
Nazis
North KoreaBall
Grammer Nazis
Being wrong and messing up
Doesn't like being interrupt
Friends and Family
Kearsarge-Oceaniaball
adopted Son
Teaching him the way of

being yankee.

NeuPreußenball
cousins
Me and him do everything together.

Everything and yet he still loves me...I think?

MilitaryTexasball
Half Brother
My Brother form another mother.

Acts a lot like her too.

Holloball
Brother
Brother, best friend. Even tho we act the complete oppside and fight sometimes I still love you bro.

Rizaliaball
Closest friend
Oldest friend and closed friend. We go back to the IMU days. aaaaa good times.
Can into space? 
YES 150% YES WE CAN!!!
Community content is available under
CC-BY-SA
unless otherwise noted.