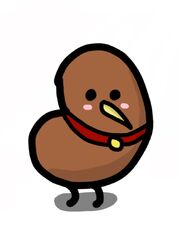 Sir Issac Nugget the Kiwi is a fictional character and mascot of The United Empire of Laurencia. In Micro-countryball lore, he is United Laurenciaball's pet.
Nugget was created by President Seann Torres of Rizalia and was named by Emperor Eno of Laurencia.
Kiwiman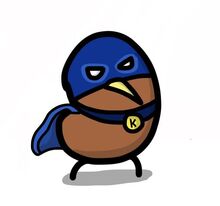 Nugget's secret identity is Kiwiman, a caped crusader who fights the forces of Islamic Terrorism.
Early life
One day during an adventure to find more clay, Laurenciaball stumbled upon a nest within a forest and decided to warm up the egg which had been abandoned by the mother. Laurenciaball fell into a deep sleep and his body shielded the egg from a rainstorm. The next morning, the egg into many hatchings and Laurenciaball saw witness to the birth of a smol kiwi. Laurenciaball named him Sir Issac Nugget.
Community content is available under
CC-BY-SA
unless otherwise noted.